Advantages of 3D / 5 Axis Laser Cutting
Laser cutting is versatile, 3D laser cutting even more so. Typically, lasers can provide cutting, drilling, engraving, ablation and structuring as well as welding for many materials in many configurations. At EB Industries we can handle materials from 0.001" to well over 0.500" (at slower feed speeds) and cut a range of materials including plastic, glass, wood, and all metals. Laser cutting is extremely precise: the minimum size of the kerf can be as fine as 0.006" and, with a 5 axis fiber laser, the beam can be accurately placed in three dimensions. The small heat-affected zone of a laser reduces potential distortion and warping of the material that is being cut and the finished cut edge typically exhibits a high-quality surface finish and minimal to no material contamination. 5 axis laser cutting also means that a part can be shaped and formed before it is cut, which in many cases results in faster production speeds and an overall stronger finished piece.
Lasers Used
Laser cutting uses a highly coherent beam of light focused on the work piece, with power applied such that the material either melts, burns, vaporizes away, or is blown away by a jet of gas. 3D laser cutting allows for quick forming of complex parts at high production rates, while 2D laser cutters are used for flat-sheet materials as well as structural and piping materials.
Industrial lasers for cutting metal are generally of two varieties, CO2 gas or solid state fiber. Fiber lasers have additional advantages in terms of power, flexibility and precision but, regardless of the technology used, laser cutting is fast, accurate and precisely repeatable. While the optimum technology for an application is, of course, dependent on the parameters of the application, few manufacturing processes can compare with 3D laser cutting with respect to speed, precision and cost of cut.
Materials and Depth of Cut
EB Industries cutting capabilities range from very thin to thick sheets. Many factors can influence the depth of the cut and the speed of the cut. The following table provides some rough guidelines:
| Material | Processing | Max. material thickness | Max. cutting speed |
| --- | --- | --- | --- |
| Mild Steel | Oxygen | 0.315 inch (8 mm) | 6.2 inch/sec (9.5 m/min) |
| Mild Steel | Nitrogen | 0.157 inch (4 mm) | 25.6 inch/sec (39 m/min) |
| Stanless Steel | Nitrogen | 0.157 inch (4 mm) | 27.6 inch/sec (42 m/min) |
| Aluminum | Nitrogen | 0.157 inch (4 mm) | 13.1 inch/sec (20 m/min) |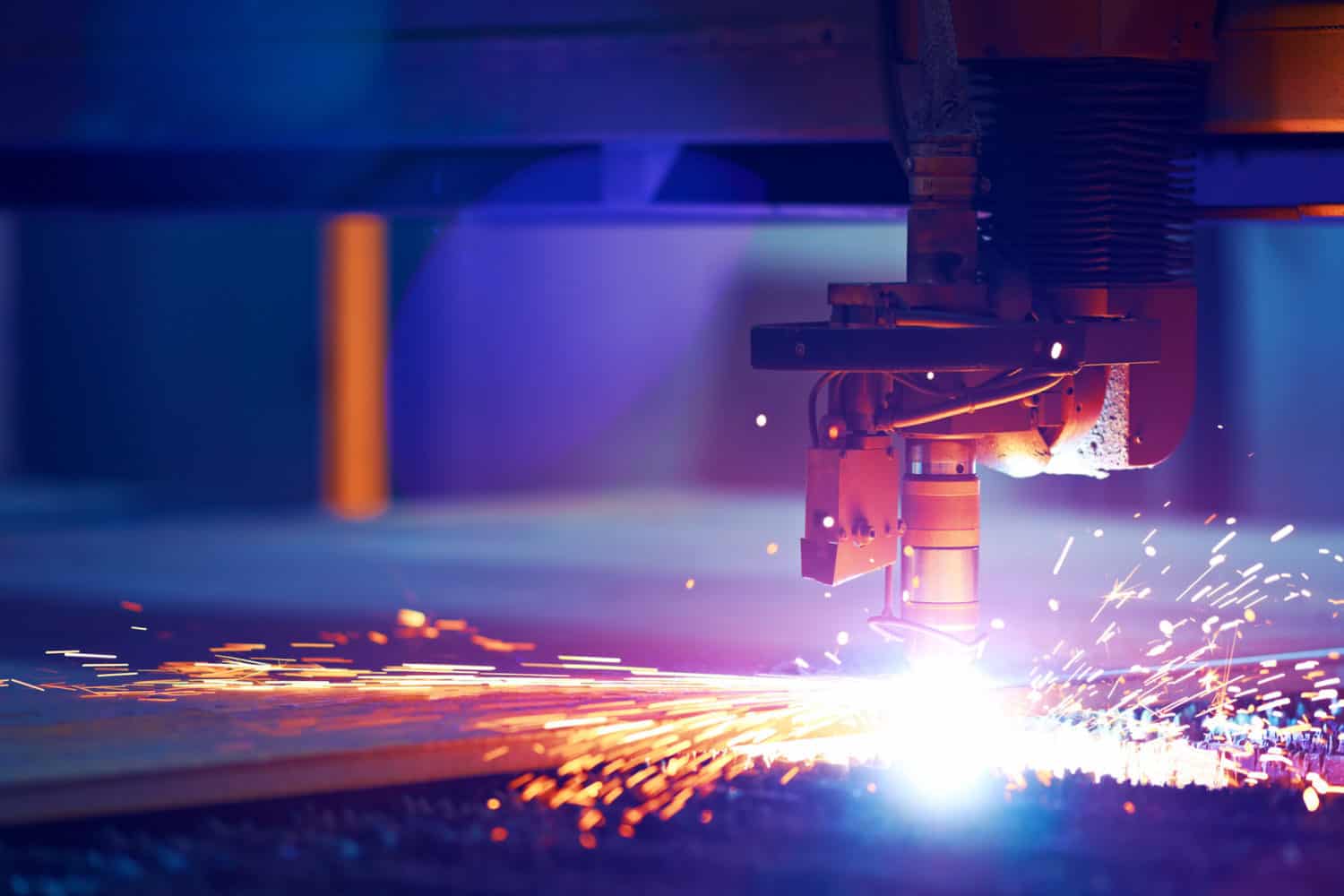 Equipment
We have a variety of laser cutting systems which each have different characteristics and attributes. Each system has different capabilities which make it better suited for a particular application.
Trumpf TruDisk 4001 diode-pumped solid-state laser operating from a Trumpf TruLaser Cell 3000. The laser provides 4,000 Watts laser power at 1030 nm wavelength with beam quality of 25 mm*mrad;
IPG Photonics YLS-4000 continuous wave Ytterbium fiber laser with power ratings from 400 W to 4 kW with both continuous wave (CW), and pulsed operating modes;
IPG Photonics YLR-450/4500QCW quasi-pulsed fiber laser with power ratings from 450 W to 4.5 kW with both continuous (CW) and pulsed operating modes;
Lumonics JK 701H – 550 Watt Nd:YAG with PPL 4-Axis Laser Operating Control System Including Coordinated 3 Axis Concurrent Motion;
Trumpf HL-304 – 350 Watt Nd:YAG Laser with Aerotech 3200 4 Axis Workstation;
Raytheon SS550 – 400 Watt Nd:YAG with Allen Bradley 8400 4 Axis Control, 3D Compound Curvature Capable;
Multiple laser tacking systems by Trumpf and LaserStar with power ranges up to 50 Watts.
Quality Management for 3D Laser Cutting
Our Quality Management System is geared towards meeting any customer proprietary requirement for quality no matter how demanding. Our ability to consistently guarantee high standards is proven by EB Industries' place on the approved supplier lists of such companies as Lockheed Martin, Raytheon, Applied Materials, Biomet, United Technologies, Halliburton and many other top level OEM's.
Because we handle laser cutting and other fabrication processes for many critical applications in the Aerospace and Medical industries that require extremely low failure rates, EB Industries maintains the highest level of quality in the industry.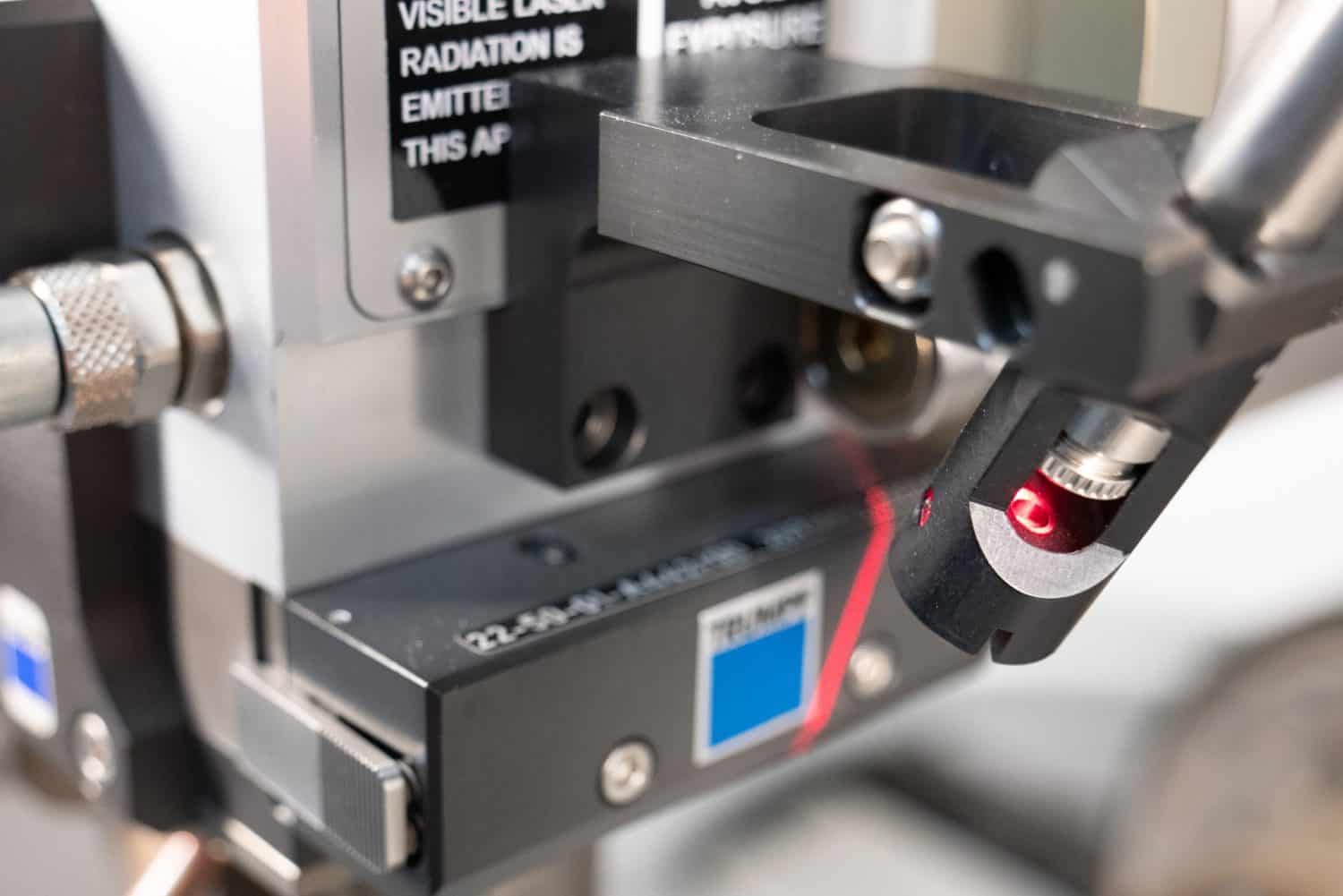 Additional Services
Cutting is generally one of a series of processes applied to a part. In addition to cutting and welding services, we provide additional pre and post processing services to simplify your supply chain and reduce costs and improve delivery times.
Pre Processing
CAD/CAM Product Design and Weld Design
Tooling Design & Fabrication
Parts Cleaning & Assembly
Strategic Sourcing and Subcontractor Contract Management
Post Processing
Metallurgic Evaluations
Leak Testing
Destructive and Non-Destructive Testing
Post Weld Thermal Treatment