EB Industries is NADCAP certified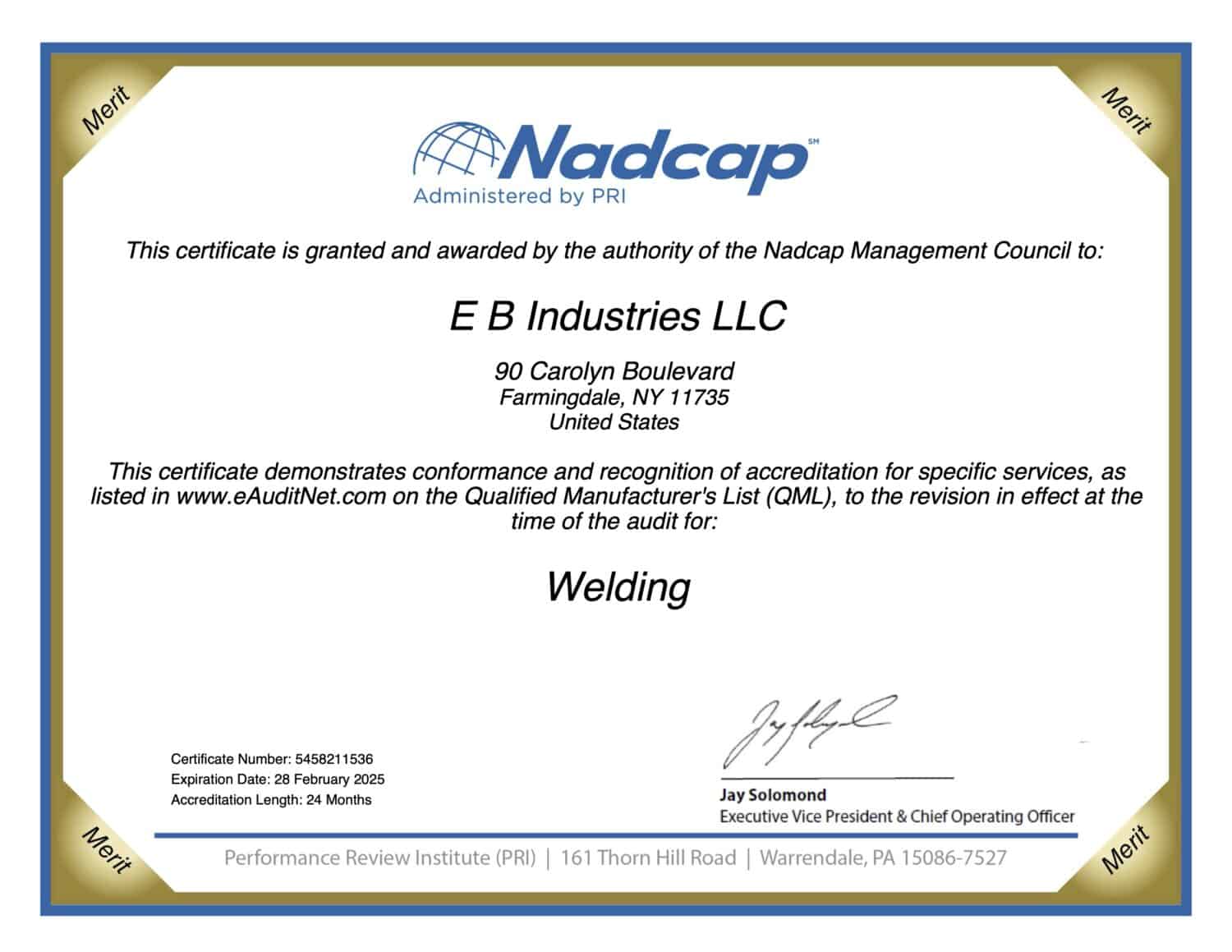 We are NADCAP certified for electron beam welding, and have been so for better than a decade. What this means is that our welding processes have been extensively reviewed, documented, and audited by an external body, NADCAP, and our certification indicates that we meet or exceed standards of quality set forth by key stakeholders in the aerospace and defense industry.
What are the advantage to working with NADCAP certified suppliers?
For a company seeking electron beam welding services, our NADCAP certification makes explicit our commitment to quality and customer satisfaction. NADCAP certification:
Guarantees of solid industry standards compliance for materials and processes
Improves product quality and consistency
Maintains high customer satisfaction
Ensures implementation of best practices
Lowers costs through improved standardization
Results in fewer audits for end users and companies along the supply chain
In 2010, the Performance Review Institute, the non-profit organization which administers NADCAP, conducted research and published the following relevant data:
85% of suppliers reported a quality improvement in the NADCAP certified areas
69% of stakeholders believed that NADCAP certification contributes to the aerospace industry's safety record
60% of suppliers felt NADCAP accreditation improved their standardization metrics
54% of suppliers said NADCAP certification helped boost their sales and gain new business
Nearly a third reported that participation in NADCAP reduced their scrap rates
What is NADCAP?
The National Aerospace and Defense Contractors Accreditation Program (NADCAP) was established in 1990 to certify compliance to standards designed to ensure high quality components and processes for products that have aerospace and defense industry prime manufacturers as an end user.
The mission of NADCAP, in the prganization's own words, is to "provide international, unbiased, independent manufacturing process and product assessments and certification services for the purpose of adding value, reducing total cost, and facilitating relationships between primes and suppliers."
NADCAP Certification Procedure
The accreditation process for NADCAP is a very stringent. The company seeking certification must hire an outside auditor to verify qualification records, process documentation, verify machine and equipment calibration as well as a number of other items. Prior to the audit, the supplier must complete and submit a plethora of checklists and other documentation, which can take weeks. The aim of the audit is to prove to the NADCAP certifying committee that the company meets or exceeds industry standards for quality. This is done so that end customers can be sure that the supplier they are working with has everything in place to produce a high quality part to the proffered specifications. Once the audit process has been completed, the task group at the Performance Review Institute evaluates the audit documentation to determine compliance and provide guidelines for any sort of remediation that might be required.
It's a long, thorough process, and companies which are successfully vetted have certainly earned the distinction and benefits associated with NADCAP certification.
EB Industries and NADCAP
EB industries has held NADCAP certification for well over a decade, along with additional certifications, such as ISO 9001:2015, AS9100D and ISO 13485:2016. All these certifications are focused on our quality system and our process documentation procedures. Our certifications are indicative of our commitment to quality, and that commitment to quality is also evident in our industry wide reputation for excellence.
Please click here to download our NADCAP certification.
If you have any questions or if we can help your further, please contact us at 1 (631) 495-1485‬ or click here to use our secure emailing system.