EB Industries Showcases Precision Welding at the Design-2-Part Show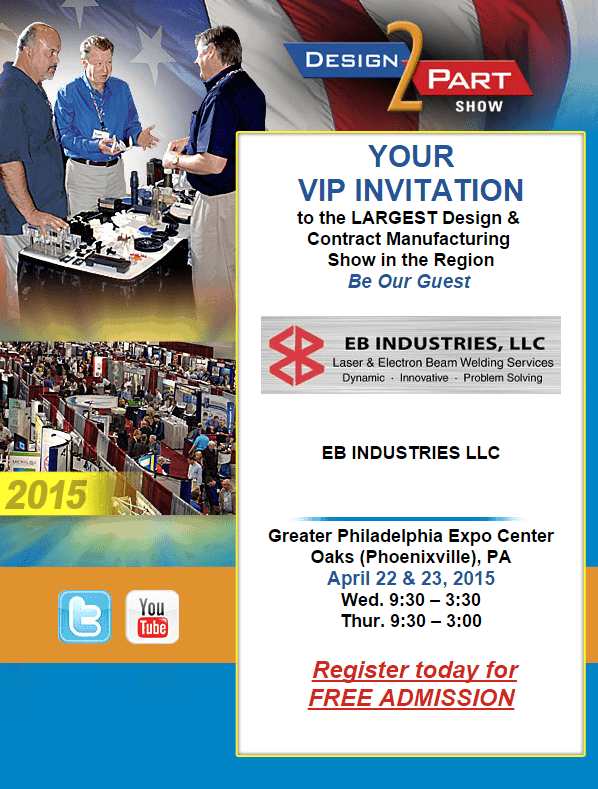 Sourcing manufacturers can be a time-consuming job, which requires customers to research different suppliers and request quotes to compare cost, quality, part materials, and more. The Design-2-Part Shows that happen all across the country aim to bring together manufacturers and suppliers to make this process easier. Attendees will have the opportunity to meet with American job shops and contract manufacturers that can provide sample parts and drawings, answer questions about materials, components, and new technologies and even offer job estimates.
EB Industries will be exhibiting at Design-2-Part this month in Pennsylvania. The show will run from Wednesday, April 22nd -Thursday, to April 23rd in Oaks, Pennsylvania at the Greater Philadelphia Expo Center. We'll be at booth 467 where companies can stop by to discuss our precision welding services in person.
As an expert in electron beam (EB) welding, laser beam welding, and laser hermetic sealing services we are able to easily integrate our services into the supply chains of OEMs as well as Tier 1 and Tier 2 suppliers. Our company has been providing precision welding services for over 50 years and has the ability to solve our customers' toughest joining challenges. We have experience working with a variety of industries, including aerospace and defense, automotive, medical devices, electronics, energy, and oil and gas.
Attendees can preview our website before the show and follow us on Twitter and LinkedIn for more company news. We encourage all attendees to visit us at booth 467 to learn more about our precision welding services.